IntelliKeys®: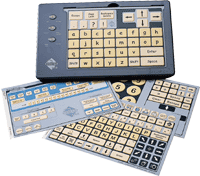 A programmable alternative keyboard that plugs into the keyboard port of your computer. It works with any software that uses a keyboard, mouse or switch.

A set-up overlay is used to customize settings.

Getting Started: Instructions for IntelliKeys

IntelliKeys® Instructions

The IntelliKeys plugs directly into the standard keyboard port of your computer. Seven standard overlays come with IntelliKeys. These standard overlays have barcodes on the back that the IntelliKeys "reads." Simply slide one of these standard overlays into place and begin typing/using your favorite software program.

Connecting IntelliKeys to the Computer:

1. Turn off the computer.

2. Note the location at which the computer keyboard (standard keyboard) is plugged into the
computer. This is called the keyboard port.

3. Unplug your standard keyboard cable from the keyboard port.

4. Locate connector A on the IntelliKeys cable and plug it into the keyboard port on the computer.
If the cable does not fit, you do not have the correct cable for your computer. (Contact the SFPS
Assistive Technology Coordinator.)

5. Plug connector B into IntelliKeys.

6. Finally, plug the cable from your standard keyboard into connector C. Both IntelliKeys and your
standard keyboard are now plugged into your computer.

7. Turn on the computer.

Using the Setup Overlay to Reset the Keyboard:

The Setup Overlay allows you to customize IntelliKeys settings to meet the needs of different students. You can return IntelliKeys to its default settings by pressing the Keyboard Reset key on the Setup Overlay. It is recommended that you reset your IntellliKeys prior to using it with a new person.

1. Slide the Setup Overlay onto IntelliKeys. IntelliKeys will beep to show that the overlay is ready
to use.

2. Press Keyboard Reset twice. The indicator lights will flash. IntelliKeys is now reset to its default
settings.

3. Remove the Setup Overlay.

Turning Off Keyboard Repeat Using the Setup Overlay:

For students who are unable to lift their finger quickly after pressing a key, the repeat feature on the keyboard can be adjusted so that unwanted keystrokes are not present. To prevent the key from repeating, slide the Setup Overlay onto IntelliKeys. Press the PC Repeat Off key (also called IBM Repeat on some overlays) to turn off the keyboard repeat. When using a Writing Overlay, a key will no longer repeat unless you lift your finger and press down again.